We've been moving motion forward since 1970.
For more than 50 years, we've been advancing precision motion control and automation for customers and industries around the world.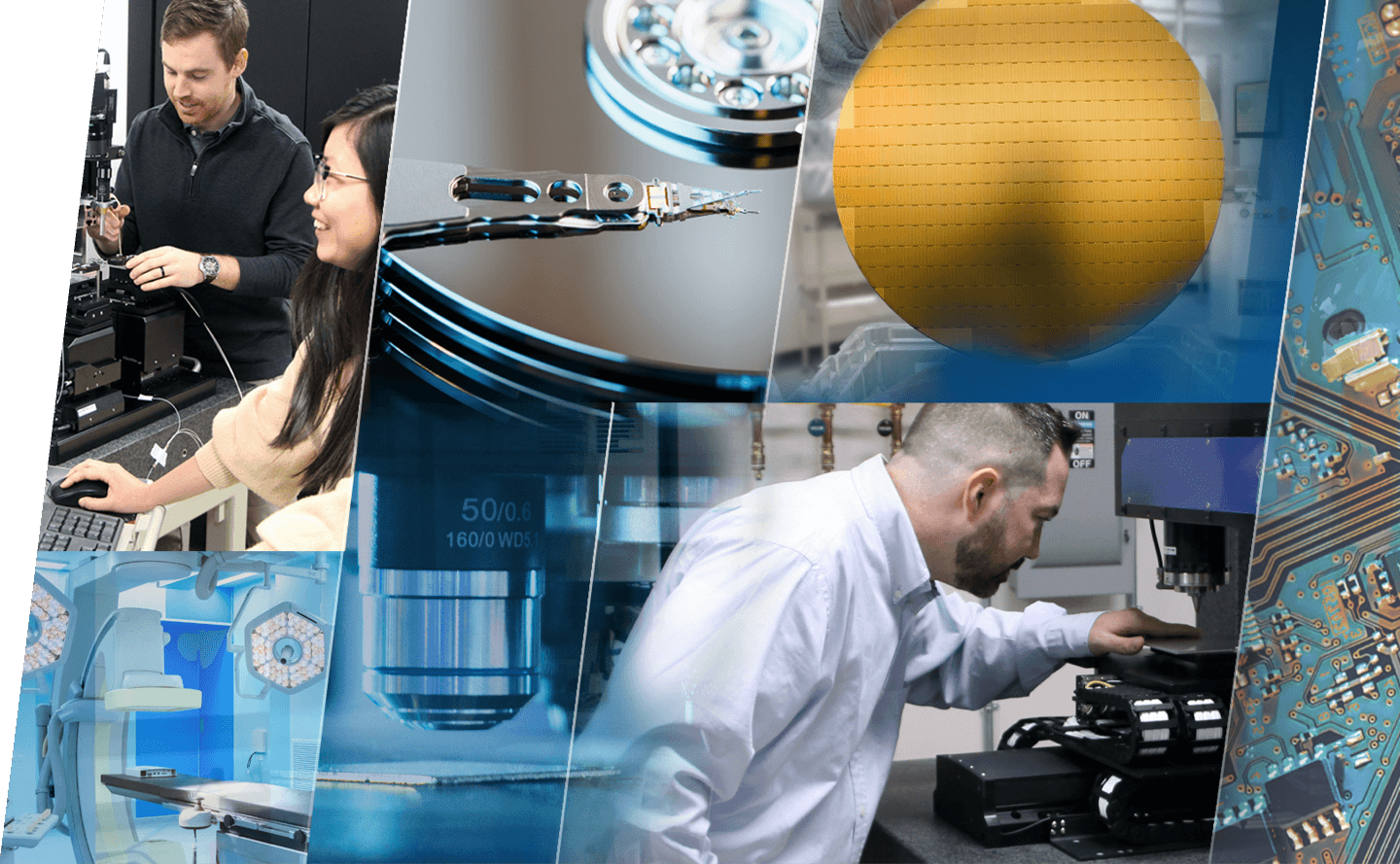 We look to our past to change the future.
From our humble beginnings in a garage, we've grown into a global, privately held company that remains small enough to forge strong personal connections with our customers but large enough to overcome their biggest precision motion and automation challenges.

We were founded by engineers, and we remain an engineering-focused company that builds upon our history as a motion pioneer to move our customers to the next level of growth and success.
2020
We expand into a second Pittsburgh facility, increasing our manufacturing space to 220,000 sq. ft.

Our Singapore office is established.

The Automation1 motion control platform launches.
2017
Our South Korea joint venture is established with ANI Motion Tech Ltd.

We construct a new facility in Fürth, Germany, with integration, metrology and manufacturing capabilities.
2013
Pittsburgh headquarters expands to 180,000 sq. ft.

Our China subsidiary is founded in Shanghai.
2011
We establish a subsidiary in New Taipei City, Taiwan.
2008
Stephen J. Botos, Aerotech's founder and President/CEO, retires. Mark Botos, son of Stephen, becomes the new President and CEO.
2004
We introduce the patented Vasculathe® – the industry's first dedicated motion system for cardiovascular implant machining.
1998
Pittsburgh headquarters' manufacturing facility expands to 121,000 sq. ft.
1995
We achieve ISO 9001 quality certification covering all operations – both products and services.
1994
We introduce our first air-bearing stage – the ABL8000 – for a high-accuracy semiconductor optical inspection application.
1990
We introduce the U500 – the first PC-based motion control platform.
1980
We establish our UK subsidiary. For future expansion, we acquire an additional 8.9 acres adjacent to the Pittsburgh headquarters.
1979
We launch our first international subsidiary in Germany (Nuremberg, Bavaria).
1974
Operations move to the current RIDC Park Pittsburgh site when we build the original facility on 4.57-acres.
1971
We patent a differential screw, which serves as the drive mechanism for many of our early products.
1970
We're founded in Pittsburgh's East Liberty neighborhood by three mechanical engineers – Stephen J. Botos, Dallas B. Perkins and Emery Hornok – who begin operations in a garage.
Since 1970, we've been solving motion control and automation challenges for the most complex applications in the world's most demanding industries. Our depth and breadth of experience reduces your technical and business risk and total cost of ownership.
Full-Service Facilities Globally
Located around the world and with direct representation in more than 15 countries, our precision motion experts support your team from design to delivery to daily production. You'll get the help you need – when and where you need it.
Our state-of-the-art manufacturing and production space around the world includes cleanrooms, applications labs and temperature-controlled metrology labs that are available to not only our team but our customers as well.
From drives and controllers to stages and actuators, we have the broadest standard product range in precision motion.

For 50+ years, we've solved some of the most complex and challenging motion applications. Using this experience, we developed the industry's broadest toolbox of standard precision motion products – all designed to integrate together seamlessly. We are a one-stop-shop for all precision automation needs.
Our precision design and engineering expertise lets you meet your process metrics – no matter the industry or application.
We don't just build your motion system. We also can custom design and engineer the best solution for your specific need, pulling on our collective expertise in precision automation applications across numerous industries. You get to market faster with a solution that's easy to implement with lower financial and technical risk.
From a customized product to a turnkey automation system, we have the industry-leading expertise to engineer precision into your process.
Whether you need help building a one-off system or thousands of a specific motion product, we have the bandwidth and precision.
We produce some of the most precise motion control products on the market because of our ability to achieve precision tolerances and alignments down to the sub-micron level throughout our manufacturing process. While the number of products you need may vary from one to many, the precision of each will not.
You focus on taking your products to the highest level. We'll focus on measuring them to the smallest.
Within our dedicated 4,000-square-foot metrology lab that's temperature controlled to +/-0.2 °C, we can perform measurements at your application functional point with standard and custom instruments that are traceable to international standards. For ultraprecision processes, we have cell-specific control to +/-0.03 °C.
We can help you minimize your implementation risk and maximize process performance to hit your deliverables.
Like our precision, we take our cleanliness to the extreme when manufacturing products for low-particulate applications.
Many motion applications for semiconductor, aerospace, research and precision manufacturing call for extreme cleanliness. We have more than 3,100 square feet of ISO Class 6 cleanroom space with cell-specific areas of ISO Class 5 space to manufacture ultra-clean automation systems.
When it comes to ultra-high vacuum systems, we believe that less is more.
We have extensive experience designing and manufacturing vacuum systems down to 10-9 hPa pressure levels. From material and component selection to vacuum system qualification using a residual gas analyzer and outgassing rate measurements, our experience matters.
Our trusted suppliers use robust modern slavery prevention practices and only work with supply chains that have satisfied global guidelines regarding modern slavery.
Aerotech's longtime commitment to research and development has resulted in many patents and awards for our innovative products.
AGV5D, Laser System Innovation Product Award by Laser Fair China
Aerotech China, Most Competitive Brand Award by Motion Control Association China
Automation 1, Control Engineering China Recommendation Award 2022
2022 Top Places to Work, Pittsburgh Post-Gazette
2022 Laser Focus World Innovators Award: AGV-XPO High-Dynamic Laser Scan Heads
2020 Ringier Innovation Technology Award: AGV5D 5-Axis Laser Micromachining Precession Scanner
2019 Innovator of the Year Finalist, Pittsburgh Technology Council
2018 Top Places to Work, Pittsburgh Post-Gazette
2018 CMCD Most Competitive Brand
2018 Control Engineering Engineer's Choice Finalist: QNP3 3-Axis Parallel Kinematic XYZ Piezo Nanopositioning Stages
2017 Automation Inside Readers' Choice Award: QNP3 3-Axis Parallel Kinematic XYZ Piezo Nanopositioning Stages
2017 Leadership in Engineering Awards Finalist
2017 Control Engineering Engineer's Choice Finalist: HexGen HEX500-350HL Hexapod 6-DOF Positioning System
2016 Design News Golden Mousetrap Finalist Product: QNPHD Series Single-Axis High-Dynamic Piezo Nanopositioning Stages
2016 Control Engineering Engineers' Choice Award Finalist: Ndrive QL & Ndrive QLe Digital Panel-Mount Piezo Drive
2015 Design News Golden Mousetrap Finalist Product: QNP-L Series Single-Axis Linear Piezo Nanopositioning Stages
Aerotech's manufacturing operations meet all industry requirements to ensure you receive the highest quality products, services and support.
ISO 9001 Quality Standard
Our products exceed the minimum requirements of the German Equipment and Product Safety Act (certificates).
You'll Find Us Wherever You Are
No matter where in the world you need our products and services, our representatives and experts are nearby to ensure your process performs as designed from start to finish.