Delivering top precision, stability and dynamic performance.
Aerotech gimbals and optical mounts are trusted in advanced applications that have virtually no margin for error.
Precision and stability you can count on when working with large payloads, high dynamics – or both.
Our motorized gimbals have excellent feedback resolution, ensuring the velocity stability, in-position stability and small-step performance you need to direct optical components, lasers, antennas, sensors and more to very precise pointing angles. 
Engineered to handle very large load capacities with speed and precision, our gimbals and optical mounts deliver two-axis or three-axis motion with the widest range of standard options and are often custom-designed by our motion control experts.
Aerotech's AMG gimbals provide high performance and the best long-term value.
AMG gimbals deliver ultra-precise angular position, rate and acceleration for development and production testing. Typical applications include electro-optical device testing, missile seeker testing and calibration, airborne target tracking and more.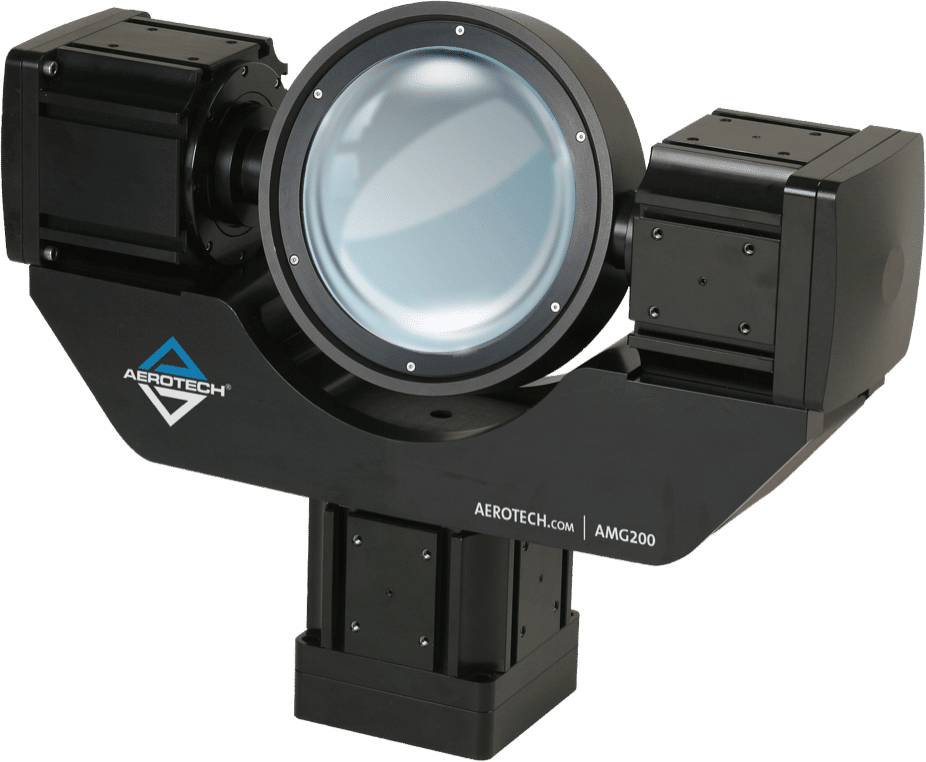 Aerotech gimbals and optical mounts stand up to decades of use without sacrificing performance.
Advanced Controller Features
Optional software packages include easy-to-use tools like Harmonic Cancellation, which optimizes periodic trajectories and improves tracking performance.
Constructed using Aerotech's industry-leading rotary stages and trusted by leaders in aerospace and defense, research and more.
Achieve Superior Positioning Performance
With excellent pointing accuracy, rate stability, and acceleration, our motorized gimbals and optical mounts deliver the results you need – precisely and consistently. Plus they offer the greatest speed and acceleration for developing, testing and producing a wide range of systems and devices.
Pair any of our gimbals or optical mirror mounts with an Aerotech motion controller to enable performance-enhancing features such as harmonic cancellation and enhanced tracking control.
Work closely with our engineering and applications experts to customize a motorized gimbal or optical mount or mirror mount for your specific project or payload. Mitigate risk, accelerate your implementation time, and know you're getting the most effective and durable gimbal to meet your exact needs.